LUIGI BONAFEDE - pianoforte e batteria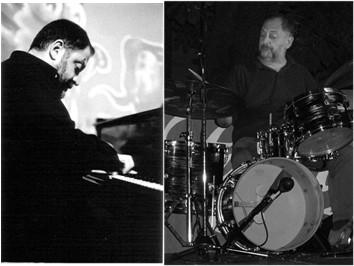 Luigi Bonafede si è jazzisticamente formato nella seconda metà degli anni settanta al "Capolinea" di Milano, dove ha avuto modo di incontrare i più noti e rappresentativi jazzisti italiani, in particolar modo Larry Nocella, che ha influenzato in maniera determinante la sua vita e la sua carriera.
Ha partecipato come leader di propri gruppi ai più Importanti festivais nazionali e internazionali: Umbria jazz, San Remo, Pescara, La Spezia, Alassio, Ciak di Milano, Siena, Grande Parade du Jazz di Nizza, Jazz Jamboree di Varsavia, festival di Dhurarn (North Carolina), Montreaux, Amsterdam, Belgrado, Parigi.
Ha preso parte, sia in maniera stabile che occasionale, a numerosi concerti, tournee' e trasmissioni radiotelevisive con i seguenti musicisti:
Gianni Cazzola, Enrico Rava, Massimo Urbani, Claudio Fasoli, Tullio De Piscopo, Pietro Tonolo, Francesca oliveri, Roberto Gatto, Maurizio Giammarco, Gianni Basso, Tiziana Ghiglioni, Flavio Boltro, Kenny Clarke, Lee Konitz, Steve Grossman, Sal Nistico, Pat Labarbera, James Moody, Joe Newman, George Coleman, Lew Tabackin, Curtis Fuiler, Bob Berg, Kay Winding....
Anche come batterista ha partecipato a concerti e incisioni discografiche con Riccardo Zegna, Tiziana Ghiglioni, Franco D'Andrea, Guido Manusardi, Pietro Tonolo, Bob Berg, Tony Scott, Rita Marcotulli, Antonio Faraò, Rossana Casale...
Ha vinto nel '97 il concorso di arrangiamento di Barga.
Discografia
2) ESASPERAZIONE Bonafede Trio Carosello

3) RIFLESSIONI Bonafede Quartet Red Record
4) LIVEINSANREMO Five For Jazz Splasc(h)
5) ANOTHER DIDE OF ME Bonafede Sestetto D.D.D.
6) WITHYOUALONG THE WAY The Little "Big' Orchestra Beat Record
7) SOULSCAPE Five For Jazz D.D.Q.
8) BETTER SWEET Caldura-Bonafede Caligola
9) GLASS WATER Tonolo-Bonafede Splasc(h)
10) TO INCLUDE Bonafede Quintetto Splasc(h)
11) REMEMBERIN' BICIO L.Bonafede Caligola
12) FUTURE PERCUSSIONS T.Depiscopo Carosello
14) CLOUDI C.Fasoli Fonit Cetra
16) RICHIAMI F.Oliveri La Quercia
17) STRANI FRUTTI R.Casale Nik CD
18) DEEP RIVER CHOIR F.Oliveri Philology
19) BREL IN ME R.Casale Carish
20) L'ANIMA NEL VENTO R.Casale C.G.D.
21) LARRY NOCELLA E FRIENDS L.Nocella Siena Jazz
22) NATURA MEDITERRANEA P.Pellegatti Celesto
23) SONORITA` VISIBILI Civica Scuola di Musica
24) L''ESSENZA F.Farao` Splash(h)
25) INDEFINITA ATMOSFERA Neos Schema Record
26) KANN C.Mazza Splasc(h)
27) TWELVE CHANGES R.Luppi Modern Time
28) THE GREAT NACO ORCHESTRA M.Colombo Symphonia
29) NACO Naco Sole Luna
30) LONELY WOMAN T.Ghiglioni La Quercia
31) LIVE IN TIRANO G.Manusardi Trio Splasc (h)
32) VELVET SOUL G ManusardiI-Lee Konitz Splasc (h)
33) UMBRIA JAZZ ALL STARS rec. uke University Splasc(h)
34) PLAY KURT WEILL Handerson - Odorici New Jazz
35) JAZZ IN ME R Casale C.G.D.
36) IN TRADITION Frank Avitabile Dreyfus
37) GREEN DOLPHIN STREETR Zegna Trio Splasc (h)
38) PORTRAIT G.Manusardi Musica Jazz
39) IL SUONO ELEGANTE M. Colombo Synphonia
40) AN HOMAGE FROM ITALY E. Cisi Philology
41) ON THE SUNNY SIDE OF THES TREET Teodora Enache I Quest
42) DISGUISE P. Tonolo Splasc(h)