MARCO TAMBURINI - tromba - flicorno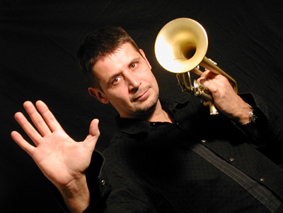 Nato a Cesena il 30 maggio 1959, si diploma in tromba nel 1979 al conservatorio "G.B. Martini" di Bologna.
Inizia la propria attivita professionale in ambito jazzistico nel 1984.
Partecipa a numerosi festivals, tra i quali: Umbria Jazz, Festival Jazz di Roma, Siena Jazz, Eurofestival di Ivrea, Dubai Jazz Festival, Jazz Wochen a Basilea, Festival Jazz di Tabarka, N.C.International Jazz Festival di Durham in North Carolina Con Paul Jeffrey, John Hicks, Micheal Carvin. Si esibisce in teatri e clubs in italia e all'estero: Birdland-New York, Parigi con Rene Urtreger, Teatro Megaro-Atene e poi con Christian Escoudè.
Collabora e registra con: Jimmy Cobb, Billy Hart, Ray Drummond, George Cables,Gary Bartz, Cameron Brown, Rachel Gould, Gianni Basso, Maurizio Caldura, Pietro Tonolo, Giovanni Tommaso, Gege Telesforo, Paolo Fresu, Franco Cerri, Enrico Rava, Gialuigi Trovesi, Dado Moroni, Giorgio Gaslini, Slide Hampton, Eddie Henderson, Curtis Fuller, Sal Nistico, Steve Coleman, Ray Mantilla, Joe Lovano, Steve Lacy, Louis Heyes, Ben Sidran, Natalie Cole Big Band E Mingus Big Band.
Partecipa a diverse trasmissioni televisive e radiofoniche nazionali e internazionali: (Radiouno Jazz, Doc, Radio Svizzera Di Lugano, Mtv Awards A Rotterdam, Mtv Londra).
E' stato titolare della cattedra di musica jazz al conservatorio "Morlacchi" di Perugia e ai corsi sperimentali di jazz presso il conservatorio "G.B. Martini" di Bologna.
Svolge attivita didattica presso il CPM di Siena Jazz ed è titolare della cattedra di musica jazz al conservatorio di Rovigo.
Lavora attivamente come turnista per molti cantanti pop e collabora dal 1995 con Lorenzo Jovanotti sia dal vivo che in studio anche come arrangiatore.
Al Pavarotti International edizione 2000 accompagna, con la sua sezione fiati, Mr. George Michael e nell' edizione 2002 Grace Jones.
Come leader incide: Thinking Of You , Trip Of Emotion con Slide Hampton, Feather Touch, Amigavel in duo con Marcello Tonolo e The Trumpet in the XX Century , CD di musica classica con brani per tromba e pianoforte accompagnato da Stefano Bollani.
Nel 2002 esce per la Dreyfus Jazz "Why Not", cd inciso come direttore musicale del gruppo "Massive Groove".
E' in uscita il CD Two Days in New York registrato a New York con Billy Hart, Ray Drummond, George Cables, Gary Bartz, Paul Jeffrey e Marcello Tonolo. In questi giorni è partita la tournèe di presentazione di questo CD.
per infomazioni scrivete a: info@marcotamburini.it
Production/Live/Clinics: simplesound@marcotamburini.it
per info sull'acquisto CD: cd@marcotamburini.it
sito: www.marcotamburini.it
Discografia
AD OCCHI CHIUSI
Ermanno Signorelli with: Furio di Castri, Roberto Gatto, Roberto Martinelli, Marco Tamburini
CALIGOLA- 20017-2
1997
PALUDI
Gaetano Valli
SPLASH- CDH 601.2
1997
TRIBUTE TO NINO ROTA
Gap Band
NLJ- 954 - 2 DDD
1995
NOTTE DI LUNA CALANTE
Gap Band omaggio a Domenico Modugno
JAZZ TODAY- DAY 6697-2
1997
GEGE' AND THE BOPARAZZI
Gegé Telesforo Featuring: Bob Berg, John Hendrix, Ben Sidran, Clark Terry
SONY- VBR 474217
1993
STRANE STELLE STRANE
Giovanni Tommaso quintet
BMG- 74321331982
1995
BRA SESSION
Guido Manusardi
SPLASH-
1987
AQUA FRAGIA
Guido Manusardi
SPLASH-
1989
IN VACANZA DA UNA VITA
Irene Grandi
CGD- 0630 10603-4
1995
KEPTORCHESTRA
Keptorchestra
NORD SOUND- CDNS 1002
1991
MISS ETNA
Keptorchestra meets Joe Lovano
CALIGOLA- 20010-2
1996
SWEET SIXTEEN
Keptorchestra meets Steve Lacy
CALIGOLA- 2001- 2
1994
SWEET, SOFT, PLENTY RHITHM
Klauss Lessman-The Music of J.R.Morton
SPLASH- CDH 612.2
1997
LAURA FEDELE
Laura Fedele
BMG-
1996
LORENZO 1997 "L'albero"
Lorenzo Cherubini
POLIGRAM-
1997
DAYS
Marcello Tonolo -Music On Poetry-
CALIGOLA- 2005-2
1995
JAZZ CONTEST
Marco Tamburini
DIRE- FO 385
1988
THINKING OF YOU
Marco Tamburini
Pentaflowers- CDPIA 021
1991
FEATHER TOUCH
Marco Tamburini
Splas(H) Records- CDH749.2
2001
THE TRUMPET IN THE XX CENTURY
Marco Tamburini
Fabula Classica- FAB 29906-2
2001
TWO DAYS IN NEW YORK
Marco Tamburini
Caligola Records-
2004
TRIP OF EMOTION
Marco Tamburini with Slide Hampton
Nel Jazz- NLJ 0961-2
1996
ELLINGTON
Mario Raja Big Band
SPLASH- CDH 427.2
1994
DODICI STORIE
Mario Raja Big Band
SPLASH- CDH 626.2
1997
EMBRACEABLE YOU
Mario Raja Big Band featuring Phil Woods
PHILOLOGY-
1988
MURRINA LATINA
Maurizio Caldura Sexet
CALIGOLA- 2018-2
1996
STATIC ENERGY
Maurizio Caldura Sexet
CALIGOLA- 2009-2
1996
LIVE AL VAPORE
Maurizio Caldura TheBluNoteSexet
CALIGOLA- 2007-2
1996
BITTER CAKE WALK
Mauro Grossi
SPLASH- CDH 605.2
1997
DANIELA E' FELICE
Mietta
FONIT CETRA- TCQL 396
1995
DANCIN' ON A DIME
Rachel Gould
CALIGOLA- 2029-2
1999
COLLEZIONE TEMPORANEA
Raf
CGD- 0630 16837-2
1996
LEONI SI NASCE
Renato Zero
ZEROMANIA MUSIC-
1984
RAMPICANTI
Roberto Monti
SSTC- 01
1999
JAZZ IN ME
Rossana Casale
CGD- 450996615-2
1994
TESTA DI BASSO
Saturnino
MERCURY- 526 890-4
1995
SATOURNINO
Saturnino
MERCURY- 534 906-2
1997
ALL'UNA E TRENTACINQUE CIRCA
Vinicio Capossela
CGD-
1990
MODI'
Vinicio Capossela
CGD-
1991
CAMERA SUD
Vinicio Capossela
CGD- 4509 97524-4
1994
IL BALLO DI SAN VITO
Vinicio Capossela
CGD- 0630 16032-4
1996
ROUND MIDNIGHT IN NORTH CAROLINA
w/Curtis Fuller,Paul Jeffrey and Italian All Star
DUKE- JAZZ1
1992